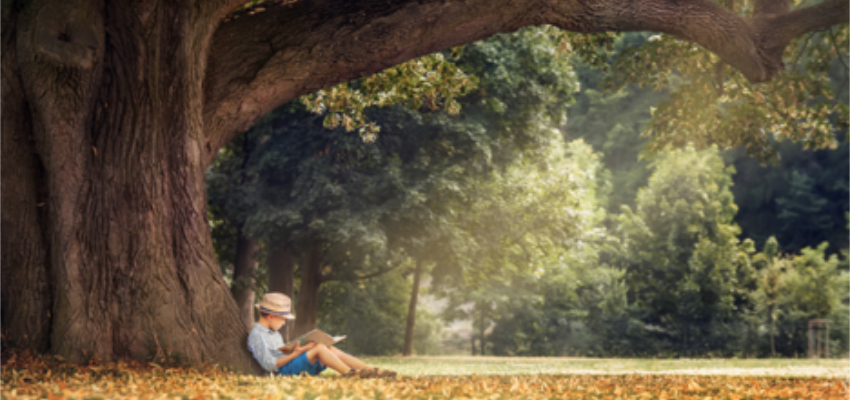 This list of recommended reading consists only of books I've read and consider both outstanding and timeless. My intention is to share publications that will reach a broad audience, as different books will resonate with different readers and varying age groups. Expect this list to grow - like a tree - it's roots flourishing in healthy soil with branches reaching for the sun and foliage that changes with the seasons.
The Nature Fix: Why Nature Makes Us Happier, Healthier, and More Creative by Florence Williams. Florence Williams has uncovered the science behind the positive effects that spending time in nature has on the human brain and health. http://www.florencewilliams.com/the-nature-fix
Balanced and Barefoot by Angela J. Hanscom. "Angela Hanscom, a pediatric occupational therapist, makes a passionate case that nature play is necessary for a truly balanced childhood. Correctly, she does not claim that nature play is a panacea, or necessarily a replacement for other therapies but that it can be a strong component in prevention and therapy. And for some children, it can make all the difference. As Angela eloquently illustrates, too many of today's children miss out on the full sensory richness offered beyond the walls of a classroom or home. Manageable risk and independent, imaginative play are essential not only to physical health but the development of self-directed young minds." Richard Louv
The Power of the Crystalline Trees by g.c. Ramirez. Book One of the Golden Spiral Series for the Young Adult reader follows the main character on a perilous coming-of-age journey through a post-apocalyptic world and offers a hopeful view of the future and the way to get there. Sold on Amazon.
The Secret Lives of Trees by Peter Wohlleben. The first in the author's Mysteries of Nature Trilogy, the social network of forests and the similarity to human relationships is explained through groundbreaking scientific discoveries.
The 3-Day Effect - How Nature Calms the Brain by Florence Williams, Audible Audiobook. Narrated by the author, this short story has long-lasting impacts on the listener as you join the journey of four different three-day wilderness excursions with war veterans, survivors of sex trafficking, a nature-skeptic cast-in-stone urbanite, and a small group of women seeking healing and answers after life-changing events. Audible Audiobook only.
Braiding Sweetgrass by Robin Wall Kimmerer. New York Times and Washington Post Best Seller. Drawing on her life as an indigenous scientist, and as a woman, Kimmerer shows how other living beings%E2%80%95asters and goldenrod, strawberries and squash, salamanders, algae, and sweetgrass%E2%80%95offer us gifts and lessons, even if we've forgotten how to hear their voices. In reflections that range from the creation of Turtle Island to the forces that threaten its flourishing today, she circles toward a central argument: that the awakening of ecological consciousness requires the acknowledgment and celebration of our reciprocal relationship with the rest of the living world. For only when we can hear the languages of other beings will we be capable of understanding the generosity of the earth, and learn to give our own gifts in return.
Gathering Moss by Robin Wall Kimmerer. Gathering Moss is a beautifully written mix of science and personal reflection that invites readers to explore and learn from the elegantly simple lives of mosses. Drawing on her diverse experiences as a scientist, mother, teacher, and writer of Native American heritage, Kimmerer explains the stories of mosses in scientific terms as well as in the framework of indigenous ways of knowing. In her book, the natural history and cultural relationships of mosses become a powerful metaphor for ways of living in the world.
The Invention of Nature: Alexander von Humboldt's New World by Andrea Wulf. In this National Best Seller, the author has resurrected the life of Alexander von Humbolt, a nineteenth-century visionary scientist and naturalist, whose thoughts and work changed the way we view the natural world and paved the road to modern environmentalism. Sold on Amazon.
Diana, Herself - An Allegory of Awakening by Martha Beck, PhD. Bestselling author, Harvard educated social scientist and veteran life coach, Dr. Martha Beck sends readers into the wilderness of the forest and the mind. An unemployed Diana Archer, labeled with numerous psychological disorders since her childhood foster years, takes us on a disastrous turned magical journey of bewilderment through the Sierras Oscuras National Forest, where with the help of her benevolent spirit animal she discovers the awakened world of love, joy, well-being and peace. Sold on Amazon.
What's Inside A Flower? by Rachel Ignotofsky. Budding backyard scientists can start exploring their world with this stunning introduction to these flowery show-stoppers--from seeds to roots to blooms. Learning how flowers grow gives kids beautiful building blocks of science and inquiry. Author Rachel Ignotofsky's distinctive art style and engaging, informative text clearly answers any questions a child (or adult) could have about flowers. Sold on Amazon, Penguin Random House, and other book retailers.