NATURE for GOOD aspires to Wellness. It is about embodying a lifestyle, culture and spiritual identity as an approach to health and wellness. It is not intended as a replacement for medical care. Instead, our focus is discovering ways to become centered and connected with the natural world as a means towards optimal health and well-being.
Nature-Based Life Coaching with Equus Coaching® is the integration of widely accepted and respected life coaching tools with nature's bounty. These coaching modalities are not psychological therapy, nor licensed counseling, rather solution oriented guidance for personal and/or professional growth with an emphasis on the present and future.
If you are looking for guidance to efficiently and effectively
give yourself permission to follow your dreams,
navigate through life changes and obstacles as captain of your own vessel,
learn to trust your decision making process from a place of authenticity and clarity,
find purpose and a clear path to get there,
enhance your leadership skills,
make accountability an everyday habit...
...then a dose or two of life coaching with a twist of nature or co-facilitation with a horse may be your ticket.
Nature-Based Coaching utilizes mindfulness techniques found through connecting to the natural world. Sessions are preferably held in person in an outdoor environment, although web-conferencing sessions are sometimes necessary due to inclement weather or physical distance. In-person sessions are currently offered in the Northern Virginia/Washington DC and Maryland's Montgomery County areas.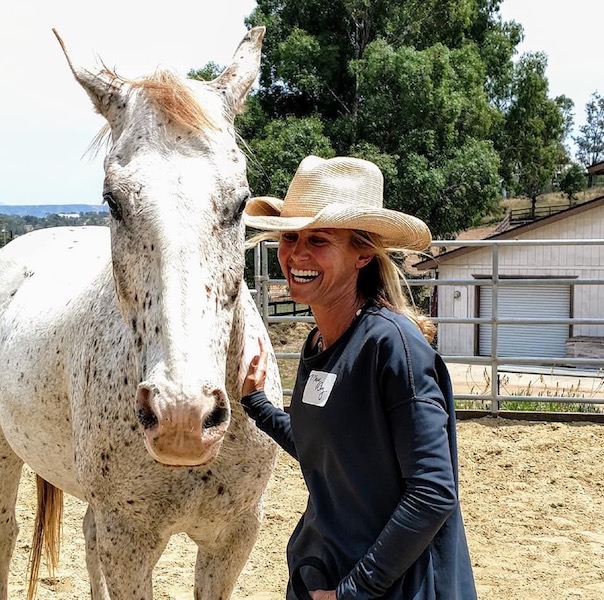 Equus Coaching® involves groundwork with horses - no riding and no horse experience necessary. Instead, this equine assisted coaching draws on the language of Equus, a non-verbal form of communication that allows you to learn experientially, in a way that will bring you home to the heart of the matter, whatever that matter may be.
As prey animals, horses are keenly aware of their environment. Communicating to their herd to warn of potential danger or for assurance that all is well is standard operating procedure - whether in the wild or in a humanized setting. Horses provide us with immediate and honest feedback - with zero judgement and no agenda whatsoever.
Like a mirror, they reflect back to us - very clearly - our inner state in that very moment. If we are willing to pay close attention, they will show us how our beliefs, patterns and manner in which we show up are impacting our relationships - with ourselves, at home, in the workplace and everywhere in between. Take that information, along with the guidance of a skilled and certified Equus Coach® and begin to transform the way you relate. Then, begin to welcome home the very best version of yourself.
Equus Coaching® sessions are currently offered in Alexandria, VA at Little Burgundy Farm, with additional locations in North Carolina coming soon.
CURIOUS? Contact me to schedule a no-fee introductory conversation to learn more.
FEE STRUCTURE
PANDEMIC UPDATE: Appropriate social distancing measures will be taken during in person coaching sessions.
Nature-Based Guidance: $90 per one hour session (includes additional followup email check-in for each session)
Equus Coaching® individual session: Sessions range from 1.5 to 2.5 hours and include a one to two week follow up call. Fees vary and are dependent on horse facility used and location (includes additional followup email or phone call check-in) Contact me for more information.
Equus Coaching® small group session (4 person maximum): Sessions range from 2 to 4 hours with fees contingent upon horse facility used and location. Contact me for more information.
*Training and certification through Koelle Institute for Equus Coaching®.